I've owned a nice little house in the Poconos back in Pennsylvania since around 1998. It's a 5 bedroom mother daughter layout house, a little under 2000 sq ft, tucked away on a 3/4 acre lot in Mt. Pocono. I had been renting the downstairs half of the house to an old couple that just sat around drinking all day collecting whatever they collected from whatever. I booted them after a bunch of late, light payments a few years ago. The house sat empty for years until I went there last year (2015) to grab a few things and pit stop on the way to Las Vegas. I was appalled at the disgusting mess my tenants left and knew I'd eventually have to deal with it. It has now been one year almost exactly and time to return, clear it out and try to liquidate the property. 
First thing's first, I have to leave Las Vegas and the way to do that is by McCarran Airport. I didn't want to make my lady drive me to the airport so I summoned an Uber and for a very reasonable twenty bucks got to McCarran on time to check in for my JetBlue flight into JFK Airport in New York. Wouldn't you know it my Uber driver's name is Ruben, that's my cat's name for those of you that are paying attention. A good sign in my book.
Check in was the usual stand in line put your shoes in a box nonsense but fairly smooth. I traveled extremely light for this trip, one backpack, a couple of shirts, a pair of jeans, my tablet, a portable battery pack, about 25 CDs for Will, and not much more other than some essentials like a toothbrush, deodorant, etc.
My flight was leaving from gate E11 which if you're a Star Wars nerd… well you know what I'm saying, another good sign. I sit down in my assigned aisle seat which I hate and notice that the in-flight movie is "Star Wars the Force Awakens". Then the announcements come on and I hear that my flight attendant's name is Roger and our flight time will be 4 hours and 20 minutes. All of which I just love and am tickled by. I actually didn't end up watching Star Wars I have seen it a bunch lately anyway I actually tried to catch a few hours sleep which I didn't really do but I did get some rest which was enough to get through the next morning.
My flight got me to JFK at around 7 a.m. the following morning NY time. I found a great deal for $17 online for shuttle service from JFK to Grand Central, which is a decent deal and a lot easier than transferring on subways and way, way less than a cab. The shuttle took about an hour and change to get to Grand Central and made a few stops but I got to catch a little rest again.
Now to set out towards Tuckahoe which is where I grew up and spent most of my youth. The train from Grand Central to Tuckahoe station was a little under ten bucks and about an hour and change ride. It was fun to cruise through the Bronx and see some of New York on the way out and of course it was cool to see the Chrysler Building and the stuff around Grand Central, it has been a while. I was grateful that it was not very busy and my time there was simple and without much waiting.
Upon arriving in Tuckahoe I did what I had been planning and I got a bacon egg and cheese sandwich at Bentley's right across from the train station. I took a coffee-to-go after that and took a walk down by the parkway oval which is a great waterfall, playground, field and track where we all grew up as young metalheads, listening to metal on boom boxes and hanging out with each other. Those were great days in the mid-80s early 90s. A time before cell phones, the internet, etc. We actually used to talk to each other… in person. Imagine that! They were great times and I am still friends with a few of those people to this day. Some I haven't seen in years but I'm sure if we were in a room it would be like old times right away. I miss these times. They were more organic and the bonds we formed then seemed to be much stronger. These were the early days of thrash metal and eventually the beginnings of death metal. They can never be repeated and I am grateful for when I grew up in history. My generation has had the privilege of seeing the last days of the old ways and those of us lucky enough to be still living are experiencing the new modern age.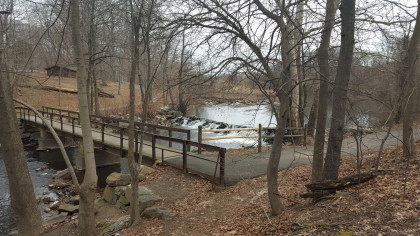 I also went for a walk by my old apartment building that I spent just under 2 decades growing up in and took a rest in the back park. This place is where I did everything first. You name it, that's where it happened.
Right about here my mom checked in on Skype. She's a good egg and always supports my nonsense. She's living in Canada these days and suffers from Lymphodema which limits her mobility. She hadn't seen the old neighborhood in years so I took her for a little walk through Tuckahoe via video chat and up to the old house in Yonkers on Mayflower Drive. It was fun and definitely cool to have someone with me besides the voices competing for attention in my skull.
At this point it was time to hook up with Will (my long time friend and "partner in grind" in Mortician) and I set out to walk towards Yonkers and check out my old house. I decided to take my mom for a little virtual walk through the old town. It was fun and it's amazing what we could do with technology now. The walk to Will's house was primarily uphill for a couple miles and I was pretty beat by the time I got there, but it was good exercise. I actually did a little over 7 miles that day, not too bad.
After a quick pit stop at Will's house we decided to go hang out at Untermyer Park for a little while and kill some time before I had to meet up with Ronnie to borrow the Malignancy van for my trip up to Mt Pocono.
For those that are unaware, Untermyer Park has quite a history and was not always the serene innocent place it appears as today. Back in the 70's New York was nothing like it is today. It was dark, gritty, and dangerous… the good 'ol days 😉 Around this time Untermyer Park was the garden of choice for rituals of some local Satanists, wanna-be's, and derelicts. What really brought the fame was when it was mentioned by "Son of Sam" killer David Berkowitz that he had joined a Satanic group here for a gathering. There's plenty more to this park but you can look that stuff up on your own because you have the world's knowledge in your pocket these days.
My own personal attachments to Untermyer Park come from my youth in the 80's and early 90's when we'd come up here and drink beers and smoke weed. It was always a beautiful place to us that had a killer view and was an awesome place to crank metal! This place would definitely fall under the "back in the day" category for places that have seen some stuff and things. Most the kids in Yonkers back then that were burnouts and metalheads like us hung out here at one point or another. That was the good thing about Yonkers and the area back then, there were so many cool places like this to sneak into at night to do our thing when we were kids. I feel bad for the kids today that don't get this experience. I know I've said it already but it needs to be said again… those were great days!
So, back to this silly journey of mine to the Poconos. It was now getting towards around 4pm and that's bad news for those trying to get over the George Washington bridge before rush hour (like me). Of course Ron had an emergency at work and was a little late getting home. I have no complaints though. I took the time to hang out on a nice bench near Ron's place and enjoy just a quiet moment. Something I don't get much of often. Ronnie eventually got home and after a quick hang I jumped right in the trusty old Dodge van and took off for the Poconos. I made it out of New York to beat most the rush traffic by the skin of my teeth and I made it up there for about a half hour of daylight.
Share this nonsense: