There's many reasons we moved to Las Vegas, NV in 2015 from Highland, NY. Besides the obvious allure of the casino scene this is the first winter EVER that I didn't need a winter coat much less a shovel! My back thanks me not to mention I wouldn't be able to shovel anyway after that jerk smashed into us at a red light last year. My shoveling days are thankfully involuntarily behind me.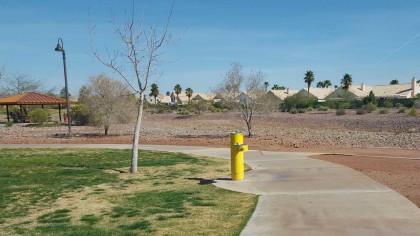 The pictures in this post are from the local park where my awesome woman and I took a walk after our free breakfast comp this morning. That's another thing that's crazy here. If you're a local in this town they just crap money and free food on you. It's nuts. Every week we eat at least once for nothing and receive a couple free comp dollars to play some slots and hopefully win some cash. Didn't win anything today except for some relax time with my girl and some much needed exercise. Since the accident I've slipped a little with the weight loss. In 2014 I lost over 100lbs which was a major accomplishment for me. It entailed a stringent diet and walking/biking schedule. I simply couldn't do what I used to do after the accident. My friggin' back hurts now whenever I walk and it has been impossible to do the weight lifting routine I did with the shoulder and neck problems I now have. Needless to say, I'm annoyed by this immensely but what can you do? Well, what I can do is start small again and work my way up to where I was. It will take a long time I'm sure especially since I can't do the things I want with my left arm. Half my lifting routine is right out the window and I'll have to start with 5lb dumbbells instead of 35's. Such a bummer.
Hey, this post was supposed to be positive and about the good things in Vegas that drew us here, not some asshole that slammed into us because he couldn't keep his eyes off his cell phone. So, speaking of good things… it's March 4, 2016, it's just after noon, it's already 74º outside now, and expected to hit 82º today. Now that's what I call awesome! It's actually been in the 70's during the day since the early February! When I lived in the Pocono's back in Pennsylvania I'd just be getting into the worst of the winter at that time. Facing electricity outages, fallen trees, dangerous roads. Hell, it doesn't even rain here! I mean technically it rains but I wouldn't call what happens here rain. In the year I've been here I've seen it rain twice where it was actual rain and not what they call rain which to me is a ten minute "sprinkle". The biggest worry out here is wind and being from the east coast that's just hysterical to me. They literally have signs from time to time out here at restaurant drive throughs that say "careful, it's windy today". That's adorable.
So, is it all weather and gloom that I'm going to talk about today? Probably. You know me (or you don't), I'm a big time hermit most of the time, tinkering away with my projects so I really haven't gotten out much since moving. Not to bring it up again but the accident kinda slowed everything down. There's still so much for me to explore in my new home state of Nevada and so much for me to learn about it's history.
It's very strange for me being in a place that's fairly new compared to New York and Pennsylvania whose history goes back hundreds of years. Part of me actually likes the tranquil grid like uniformity of the town outside the strip and downtown. It's very weird how quiet it is where we live on the south west side compared to just 15 short minutes east on Tropicana. It's literally a whole other planet once you get to Las Vegas Blvd. I love being so close to chaos and yet so removed. It's perfect. We're currently renting but I hope to buy a house out here close to this area at some point.
Something else people don't understand about here. Las Vegas is a lot smaller town than you think. Maybe it's because I come from a place where 4 million people commute to work in the city everyday that I think that 250,000 people is small. Frankly, it is. This is actually a small town. Sure it swells with out-of-towners every weekend but the local population is pretty small. It's definitely a very unique place to live.
Speaking of unique, we have the all time best street freaks here. Junkies, pimps, and whores oh my! Man, I thought New York had some great street freaks especially in the Village but here is a whole other level. From the completely ridiculous guys in ass-less chaps to the truly heartbreaking homeless people that are really not in good shape it's a true spectacle whether good or bad. I am a little shocked that a place that is so full of money doesn't have better programs for the homeless out here. Not only that, there's so much friggin' unused land around the city. I can fathom that this town can't come up with a few dollars for a homeless retreat or something somewhere instead of accepting people living in the flood tunnels underground. It's a bit appalling. I guess you can't save everyone.
Man, I tend to hit such a downer all the time. What a manic depressive huh? Peaks and friggin' valleys that's me! I guess in conclusion I'm pretty happy I moved here despite all the issues we've faced once here (accident) and the bullshit moving here (blown engine on car in Nebraska). Nothing is ever easy so why should happiness be an exception. Guess I will keep working on it.
-RJB
Share this nonsense: