Well, the house was cleaned out, cleaned up, and ready for liquidation at this point. I got to visit with some fun peeps that I love and hadn't seen in a while. Now the only thing left to do was to begin the long trek home. I was not flying out until Tuesday but decided to head back to New York on Monday so as to give myself enough time to wrap a few things up and make a few more stops for some quick visits with my cousin Mary Ann in Yonkers and my cousin Chris and his family up near Mahopac.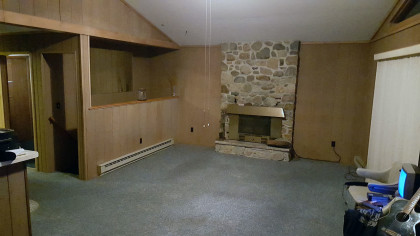 First thing was first and that was to make sure everything I had to do for the liquidation company to buy the house was done and do the final walk through before shutting the house down. I actually (like a smart person or somethun') packed the van up the night before for the most part so I had little to do there except for bringing down the last couple little odds and ends and taking a little video that will be the stuff of future nostalgia for me.
It was raining and kind of icy out and not the best of days for travel but luckily I wasn't in a rush. I took it easy and made my way out of the Poconos to interstate 80 east into New Jersey. NJ is only about 15-20 minutes from there and that's almost always my pit stop to gas up before making the just under 2 hour trek through the city and up into Westchester, NY.
The part of route 80 that goes through the Delaware Water Gap is a really beautiful part of the earth. It looks great in the summer but man I do love the way it was when I was driving home with a cottony blanket of clouds draped over the mountains and a light fog everywhere. This is when Sasquatches go food shopping. When I was stopped at the gap I set the phone up to take some pics as I drove through with just one button push.
The traffic and weather luckily held up for me and the ride was fairly smooth into New York. I did see a pretty massive truck accident on the west bound side and was very grateful to not be stuck in the massive amount of traffic that was built up for miles. Route 80 can be a nightmare during rush hour… it's downright hell when there's an accident at rush hour involving a tractor trailer.
Moving past all that stuff and the obligatory "slow down and scope out the accident" that we all did I got to the George Washington Bridge where I am allowed to proceed for the "reasonable" price of $15. FIFTEEN DOLLARS! When I moved up there I think it was $4 or something. Mind you something like 3.5 million people pay a toll everyday in New York to cross the bridges and tunnels. So of course it makes total sense that the transit system is always out of money. You know because the roads are all fixed up and everything is new and that's where the money went… what's that? It's all shitty and falling apart since I was a kid? Then where's all the money go? Where does the money go indeed. You could probably ask one of the many, many, many people that hold administrative jobs for 100k+ a year in that system that are about as useless as a science adviser at a gentleman's club.
After dropping off the van with Ronnie and a way too quick visit with my cousin Mary Ann and another with my good friend Danny Nelson I headed upstate on the train towards Mahopac to visit with my aunt and my cousin Chris, his wife, and daughter. It was a nice visit and I was glad that was able to happen. After a not so good night of sleep (because Chris and I were hanging out into the wee AM hours) I got a sandwich in me, some coffee, and a ride to the train station to do the crazy trek to the city again doing basically the reverse of what I did two weeks ago.
The train to Grand Central is really a breeze. I was carrying my backpack again but this time I also had my acoustic guitar in a brand new hard case that I got milked for $100 from Guitar Center for. Of course the $60 ones (that are the damn same) are only on the website. I hate that place sometimes. Whatevs, needed the case and didn't want to risk a soft bag in case they made me check it or something weird happened. As it turned out the JetBlue peeps were super cool and because the flight wasn't too full on the way back I was allowed to take the guitar to my assigned seat and stow it in the overhead compartment. This was a dream as I had my backpack too and would not have to deal with baggage claim and could just walk off the plane after landing. FYI there's some kind of FAA regulation that you can bring a guitar on board now but it's usually stowed in an area by the flight attendants and it can also be up to the Captain's discretion… whatever the hell that means.
I gotta say I like the JetBlue. The seats have some leg room which is good for me since I'm pushing 6'2″. They also offer complimentary wi-fi sponsored by Amazon. It's a little spotty but hey you're 35,000 feet in the air going 535 mph… I'm impressed with any service up there. I had reserved a window seat and the luck was with me and there was no passenger seated next to me just the guy in the aisle seat. I'm not a dude that gets up during a flight so this was perfect.
The take off from JFK was on time and I managed to get a little video with my Samsung S6. That thing has a great camera on it as you can see in this series of articles, everything was taken with it.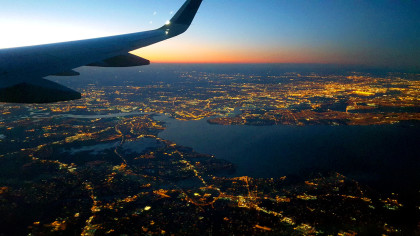 I attempted to do what I usually do on a flight, after some futzing around on the internet I zoned out to a podcast (Joe Rogan again) and tried to get some sleep. Keyword there was tried. This flight was a really turbulent one. For those of you that haven't flown, turbulence is like rough road in the air. The whole plane shakes and it's a little off putting. I'm used to this as I've been flying my whole life. This flight was a little different from usual though. There were long periods of 10 minutes or more of turbulence pretty often and for almost a half hour at the half way point followed by some pretty unnerving fast drops in altitude of several hundred feet at a time accompanied by some crazy twists of the plane. So, sleep was difficult… at least the podcast kept me occupied mentally.
I was very happy to see the bright lights of the Las Vegas valley emerge from the darkness as we neared our destination. Not only to get off this bumpy plane but I missed my woman, her kids, my cats, the dog, our house, etc. It was a long 2 weeks journey that had it's ups and downs that was supposed to only be a week but at least everything got done despite some of the setbacks I didn't even go into here. I'm just happy to be back and enjoying the Las Vegas weather again. What's that? Rain in the forecast for this week here? You've got to be shitting me… It figures 😛
The End?
A little bonus footage of my landing at McCarran Airport in fabulous Las Vegas, NV!